István Kovács was born on 14th of August 1927, in Pusztaegres, Fejér County, in a simple peasant family. He acquired two qualifications as a youngster, and a third as an adult, which was an exceptional achievement at that time. István Kovács wanted to do better than his parents through learning, therefore, in 1957 he moved to Érd with his family.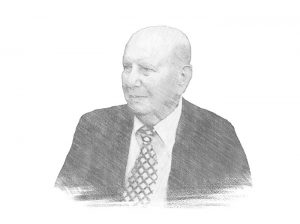 At the beginning of the '60s the wind of the new economic mechanism was already blowing, and he saw potential in catering. His desire to learn and his ambitions, extraordinary energy, determination, and philanthropy allowed him to be the operator of "Kétvasút" Restaurant in Érd for over 12 years. After the change of regimes he became self-employed and organized events. As a resident of Érd, having several professions, he became a member of the Guild. He spared no time and effort in helping the work of the Management and the board, taking serious social responsibility.
The person after whom the Foundation was named was a very energetic, determined, hard-working and persistent personality; a leader type with an extraordinary thirst for knowledge. His friends and acquaintances knew him as a very nice, sociable type of person. István Kovács lived an active, full, joyful life until the age of 80, and according to many, at the age of 80, he lived the life of a 60-year-old. After falling ill in 2013, he died on the 12th of February 2016.
"The heart beating for us has stopped, to us, you will never be dead, and you will live forever like the stars."